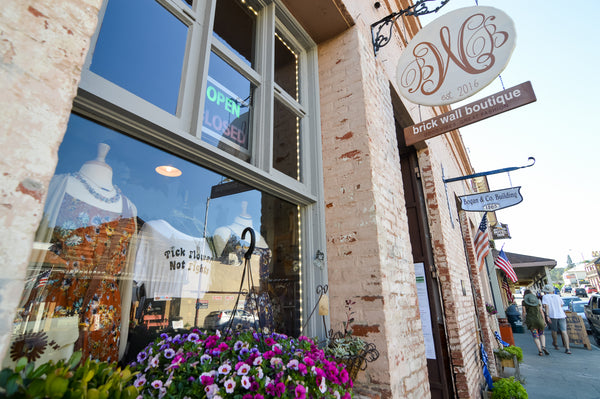 The Brick Wall Boutique
This location in historic downtown Mariposa is a special building. The Bogan & Company building, beginning  in the 1850's, Charles Bogan and later business partner Chris Kerrins had a general merchandise store at this location. The original building burned in the fire of 1866. With the help of insurance, it was rebuilt as the fireproof brick building that stands today. Subsequently, it has housed a restaurant, barbershop, and the Bank of America. 
Being located in historic buildings it can be difficult for some of our shoppers to move freely within the stores. We offer online shopping and curbside pick-up, in both the Boutique and Haberdashery, to mitigate the lack of accessibility.
-- Brick Wall Haberdashery --
A modern day Haberdashery for the guys... 
Located right next to the ladies boutique.
You can shop most products online and if you're in the neighborhood come in and check us out! 
Monthly pop-up barbershop for a fresh cut and shave. 
SHOP MEN NOW